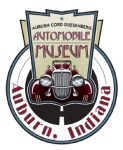 The Auburn Cord Duesenberg Automobile Museum – where the world's finest cars of yesterday live today! Over 120 classic, antique, vintage and special interest cars are displayed with other automotive related exhibits on three floors. The museum is located in the original 1930s national headquarters of the legendary Auburn Automobile Company and is a National Historic Landmark. The museum is open from 9 a.m. – 5 p.m. daily
Admission Rates
Adult Admission: $12.50 per person
Adult Group of 12 or more: $10.50 per person**Call (260) 925-1444 extension 33 to schedule your visit. Reservations are necessary at least (1) week in advance to receive the group rate. Lunch packages are available.
Children under 18 years of age: $7.50 per person
Children under 6 years of age: FREE
Family Rate: $32.00 per family**This rate is available to parents and their dependent children at the same address that are 18 years of age or younger.
School/Children Groups: The Auburn Cord Duesenberg Automobile Museum Education Department offers many study trip options including science, technology, engineering, artistry and math in addition to the availability of customized learning experiences that tie directly to the needs of your classroom. The museum welcomes thousands of students each year including many school study trips, scout, and other children's groups. Admission is $1 per student. Adult chaperones, teachers, and bus drivers are free.
Hours
The Auburn Cord Duesenberg Automobile Museum is open seven days a week!
9 a.m. – 5 p.m.
The museum is closed on New Year's Day, Thanks giving Day and Christmas Day only.