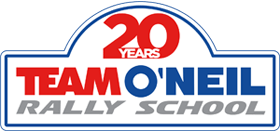 Founded in 1997 by Tim O'Neil, Team O'Neil Rally School is located in Dalton, New Hampshire on 583 acres of alpine terrain. Elevation changes up to 500 feet over 6+ miles of roads and includes two 300-foot diameter gravel skid pads. Roads consist of 50+ different types and combinations of corners, blind crests and junctions, students are exposed to every driving challenge they may encounter in real-world conditions or on competition stages.
Course offerings include rally driving, winter safe driving, off-road and security courses for individuals, private companies and government agencies. Courses offer educational and recreational experiences appropriate for all abilities. The Team O'Neil Motorsports division offers competition rally car preparation and support, and is the United States distributor of M-Sport parts and car kits. Team O'Neil also operates the New England Forest Rally and is a primary supporter of the recently formed American Rally Association.
Team O'Neil Rally School – The school serves as the leader in loose surface driver training for the United States. Courses range in length from one to five days with a progressive curriculum allowing students to complete the school over multiple visits if they desire. Students train in front wheel drive, rear wheel drive and all wheel drive vehicles. Training begins on a skid pad and slalom courses, as students progress they take the skills they have acquired and apply them to actual rally roads. By day 5 they have the option to work with a navigator and run simulated rally stages.