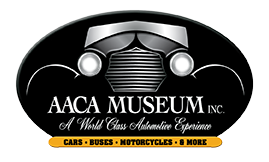 AACA Museum (Antique Automobile Club of America)
The AACA Museum, a proud Smithsonian affiliate, is a world-class automotive experience. Children and adults of all ages can explore numerous vintage vehicle displays and interactive exhibits featuring cars, buses, motorcycles, and other automobiles from the 1890s through the 1980s. The AACA Museum is conveniently located in Hershey, PA and attracts visitors from throughout Harrisburg, Lebanon, Lancaster, and all of Pennsylvania.
A visit to the AACA Museum is a one-of-a-kind journey of discovery and entertainment for the entire family. Open daily from 9 a.m. to 5 p.m., the AACA Museum is open to the public and offers both self-guided and guided tours for larger groups. As you make your way through the museum, you'll discover a number of vintage automobiles in unique scenes and settings. We frequently change and update displays, and we host a number of new events each month.
The AACA Museum is dedicated to the preservation and presentation of vintage automobiles and their vast history. We offer educational tours for pre-K through twelfth grade, and our hands-on activities and informative tours make learning active and fun. Our Hershey Venue, which spans 50 feet from floor to ceiling, acts as a spacious facility for social and corporate events, weddings, receptions, banquets, and more. Your museum rental also includes the skilled and knowledgeable staff to assist you with your event.
If you're in the Hershey, PA area, schedule time to visit the world-renowned AACA Museum. From old bikes and buses to motorcycles and cars, everywhere you look is a piece of nostalgia. The AACA Museum has been named "Reader's Choice for Best Museum" and "Best Tourist Attraction" for our innovative displays. Because our exhibits and events are constantly changing, browse our site to learn about our upcoming attractions.
Hours & Rates
AACA Museum Open Daily
9:00 AM – 5:00 PM
We encourage you to arrive by 4:00 PM so that you have a minimum of 1 hour to enjoy the Museum. With three floors of exhibits, we want to make sure you have time to enjoy your experience here. Most visitors stay between 1-2 hours, or much longer for the true automotive enthusiast who wants take in every detail.
The AACA Museum's gift shop is open 10 AM – 5 PM
Special Note: The AACA Museum will be closing at noon on Wednesday, October 10, 2018, so that we can set up for our annual Night at the Museum fundraising dinner.
Closed
Thanksgiving Day
Christmas Eve Day
Christmas Day
New Year's Day
Admission Pricing
Adults $12.50 Buy Tickets
Senior Adults (Age 61 +) $11.50 Buy Tickets
Children (Age 4-12) $9.50 Buy Tickets
Children Age 3 & younger FREE
AACA members FREE with AACA membership card Learn more. Buy a Membership
Individual Membership $35 Unlimited admission for membership year. Learn more. Buy a Membership
Family Membership $60 Unlimited admission for 2 adults & up to 6 children or grandchildren up to age 18 for 1 year from the date of purchase. Learn more. Buy a Membership
Tickets can be purchased upon arrival at the ticket counter or in advance online. Tickets purchased in advance may be subject to a service fee, and fees vary based on the event.
History of the Antique Automobile Club of America (AACA) Museum
The Antique Automobile Club of America (AACA) originated the concept of a collector-oriented automotive museum as a complement to its Research Center and Library. A decision to move forward on implementing the project led to the incorporation of the AACA Museum in 1993. Like the Library, the AACA Museum was established as a nonprofit educational institution under section 501(c)(3) of the Revised IRS code. This status made donations to these entities tax deductible. The Museum's offices and small storage and display area were housed at the Club's headquarters on Governor Road in Hershey, PA.
Today's AACA Museum is professionally staffed, collecting institution presenting semi-permanent and temporary exhibitions. Exhibitions are supported by educational programs for school and community audiences. It sponsors workshops and other activities designed to raise public awareness and appreciation of the role that the automobile has played in shaping 20th century America. The AACA museum celebrates the role of the collector in preserving and making accessible a material record of this phenomenon. It is also unique in that virtually all the cars on display have been opened or donated by AACA members.
In addition, the AACA Museum houses the Museum of Bus Transportation Collection. A floor full of buses and more than 30 motorcycles, motorbikes and Cushman complement the 100 cars on display. The museum have over 20,000 sq. ft. in additional storage so vehicles can be rotated on a regular basis. Several times a year the displays change with loaned vehicles that fit special displays that range from horseless carriages to the muscle car era. The AACA Museum has been recognized by the Smithsonian as an Affiliate Museum which is an extremely rare honor. The AACA Museum has also been recognized as one of the Top 16 Automotive Museums in the world which is a great honor for this fledging organization.
AACA Museum, Inc.
161 Museum Drive
Hershey, PA 17033